Journal Entry:
Sat Mar 22, 2014, 5:06 AM
Tumblr
l
Commissions
l
Kiriban
l
Watch Me
l
Note Me
Hej folks!
So I have been a little bit silent since my birthday and everything, the fact is: a lot has been happening! Which is good, but also makes me busy as hell...
When I first moved to France, one year ago, people told me about an expression that they say it defined life in France: "Metro-boulot-dodo" (that means, "underground+work+sleep", meaning that you wake up, take the tube go to work and than come back home so tired that all you do is sleep. And that was your day.) When I first heard it I thought: "How dreadful. This will never happen to me.". But now, I think this may be quite accurate in a way...lol

So back to art-related news:
One thing not being said enough since my birthday:
Thank you all guys for the amazing gifts and the wishes!!!
It really touches me deeply, every wish and every marvelous drawing I received!
Also, when I got back from Prague I found this amazing blue package in my mail box! I mean, look what was inside:
(Not the drawing, that was I gift I was able to get when she visited me! *3* )
But instead of the drawing (and by the drawing you are able to guess who she is!) there was a lovely letter, but hey! That's personal.

I was so touched so touched that I didn't what to do how to react! I couldn't finishe the whole graphic novel yet, due to study, but I always carry it on my bag and it always warms my heart when I see it! It was such a sweet gesture of

!! Really, really!

Now, moving away from my sentimental part and back to the art world:
There is a contest going on and if you have a spare time, could you help?
It's a facebook contest, all you have to do is click on the link beside the picture and like it! You help is much appreciated!
Orphee and Nephy's art are so great! *3*
Thank you very much indeed guys!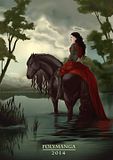 www.facebook.com/Polymanga/pho…

www.facebook.com/Polymanga/pho…
For more news and updates, check out my Tumblr!
To do List

Will Graham Commission -
75% Done

Kiriban -

-
10/01 - 50% Done

Switch colors Meme -
45% of the Lines done
CSS made by
TwiggyTeeluck
Modified by
Zephyrhant
Mood: Happy Tears
Listening to: Rasputina
Reading: About Social Darwinism
Watching: The Fall (2006)
Playing: Nothing at all
Eating: Corn thins! *3*
Drinking: Tea, always tea.

Watch